History
The Quarantine Department, formerly under the Ministry of Agriculture, began its operations in 1981 at the Belize International Airport, now named The Phillip Goldson International Airport. Consequently, the activities of the department was expanded to Port of Belize and the other official entry points in the other five districts.
The main purpose for Quarantine presence at the points of entry was to prevent the entry of the Mediterranean fruit fly into Belize which was detected in the states of Florida and California, USA. The measure was to protect the vibrant citrus industry from the fruit-fly threat.
The Quarantine Department now serves as the first line of defense to prevent/or delay the introduction of regulated plant pests, exotic animal diseases and zoonotic diseases that can threaten Human, Animal and Plant Health through inspection regulated commodities at points of entry.
 Objective
To maintain an efficient quarantine inspection service at all points of entry and to provide support to the Animal, Plant Health and Food Safety Departments of the Belize Agricultural Health Authority of Belize.
 Organogram
The Department operates with a total staff compliment of 41 employees: one Director; one Assistant Director; Five Senior Quarantine Inspectors (Zone Supervisors); and 31 Quarantine Inspectors with a Data Analyst and an Administrative Assistant as support staff.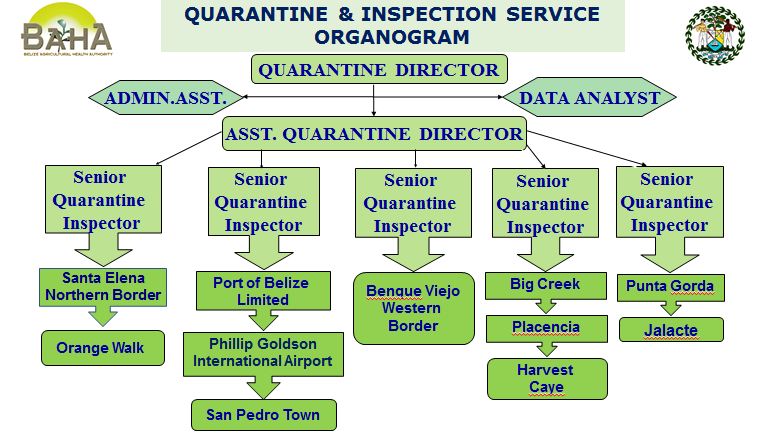 Offices
The Department's headquarters is located in the BAHA Building at Central Farm and has presence at all major points of entry and other monitoring points. These include:
Quarantine Offices                                                                                                               Monitoring Points              
1.Belize Northern Border station (BNBS) Santa Elena Corozal                                        1.Consejo Pier, Corozal District
2.Phillip Goldson International Airport (PGIA)                                                                    2.Blue Creek, Orange Walk District
3.Port of Belize Limited, Belize District                                                                                 3.Dangriga Town Pier
4.San Pedro Port, Belize District                                                                                             4.Stann Creek District
5.Benque Viejo Western Border, Cayo District
6.Big Creek Port, Stann Creek District
7.Punta Gorda Port, Toledo District
8.Quarantine Office, Orange Walk District